The 'Columbus Framework' is a framework & canvas for Impact Business Design.It is developed for entrepreneurs and founders navigating the early phase of venture building. It provides them an overall framework to put Social and/or Environmental Impact at the core of their business.The framework can also be used for established businesses willing to transform themselves and to put Impact at their core, while revisiting their business and operational models.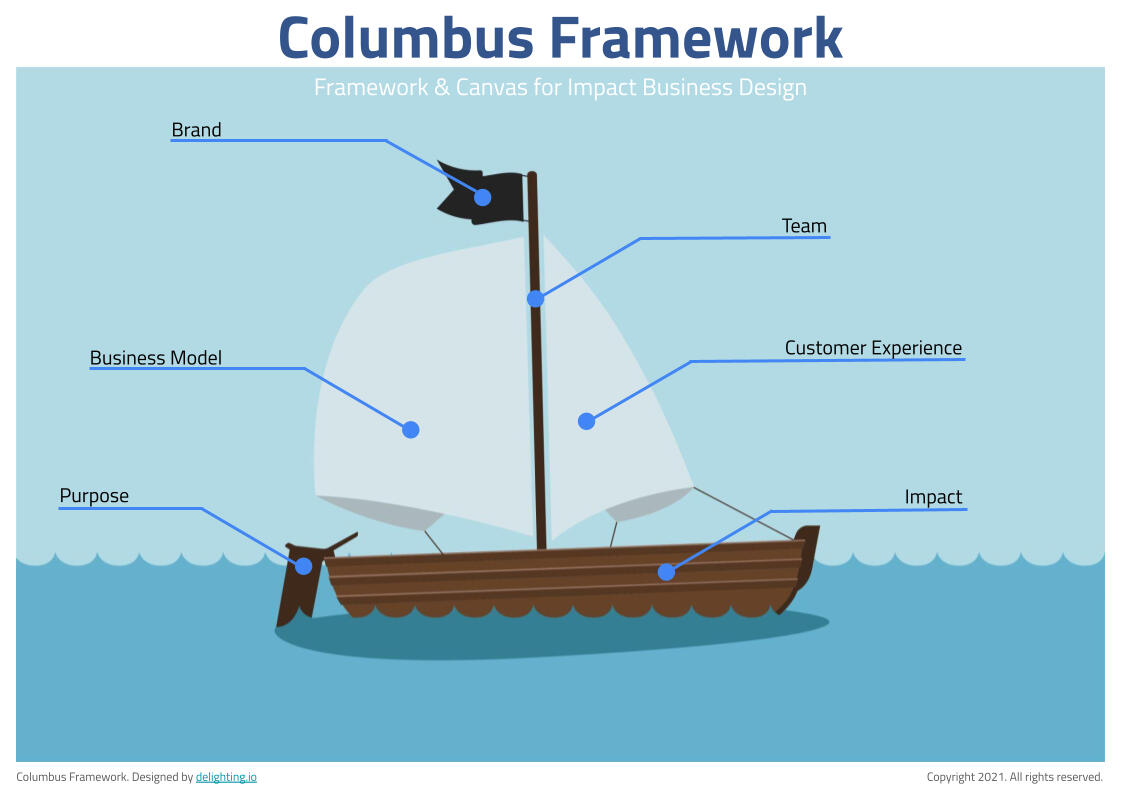 The 'Columbus Framework' Canvas - Complete version including externalities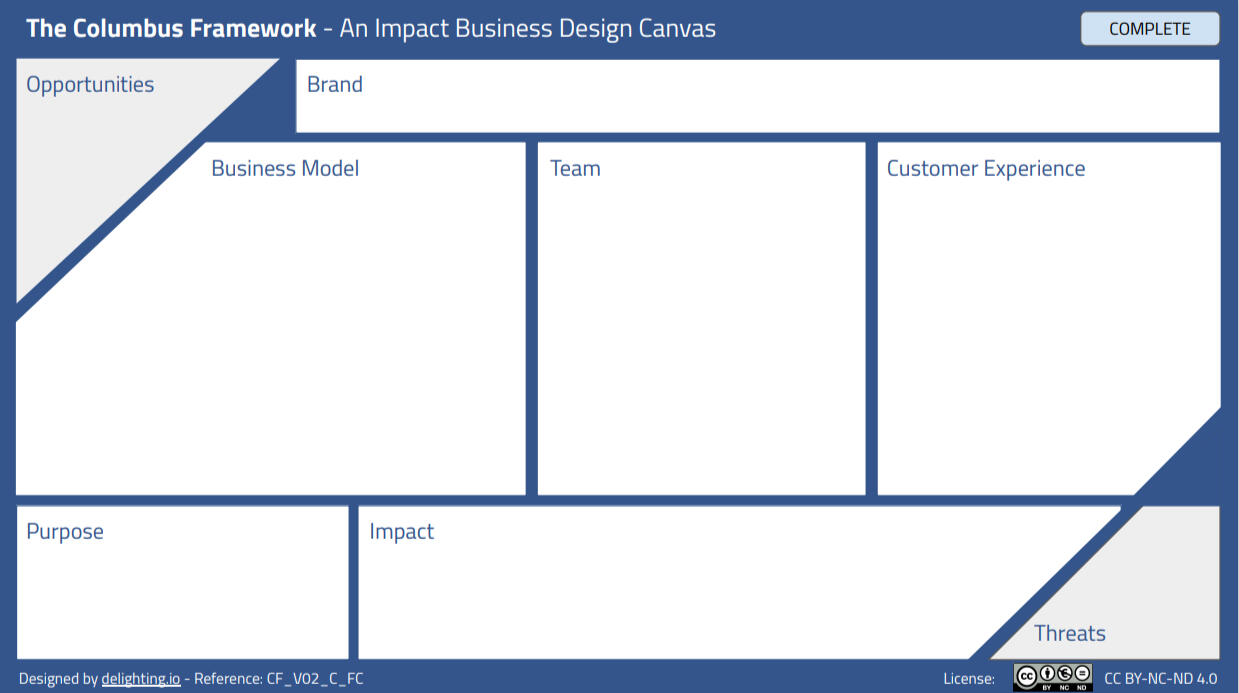 The Complete and Simplified versions of the Columbus Canvas can be download for free on Gumroard.
Guide
A complete manual on how to navigate the 'Columbus Framework' and how to best leverage it.English. License for 1 user.€ 15 (excluding taxes) - Sold on Gumroad
Workshop Kit
A facilitator pack for your workshop. Include one Illustration poster, A1 'complete' canvas and participants' handout.€ 10 (excluding taxes) - Sold on Gumroad
Do you need help implementing Impact Business Design for your venture? Get in touch
License
The 'Columbus Framework' is developed by delighting.ioThe 'Columbus Framework' Canvas (and its variants) is under Creative Commons license: Attribution-NonCommercial-NoDerivatives 4.0 International (CC BY-NC-ND 4.0).
The key terms are the followings:
- Attribution — You must give appropriate credit, provide a link to the license, and indicate if changes were made. You may do so in any reasonable manner, but not in any way that suggests the licensor endorses you or your use.
- NonCommercial — You may not use the material for commercial purposes.
- NoDerivatives — If you remix, transform, or build upon the material, you may not distribute the modified material.
You can learn more about the license terms: https://creativecommons.org/licenses/by-nc-nd/4.0/legalcode
While the Canvas is under Creative Commons license, the 'Columbus Framework' Illustration, Guide, Facilitator Pack are under strict copyright license.
The download of the 'Columbus Framework' Guide grants you one license for personal or professional use. This means that you can use the document on your own device and make prints for your own use.
No part of these products may be reproduced, stored in a retrieval system, or transmitted in any form, or by any means, electronic, mechanical, photocopying, recording or otherwise, without the express written consent of delighting.io.
Designed by:

Helping Founders to reach Founder - Fit & Product Market Fit.
Prices exclude taxes. Digital products are sold through Gumroad.Header photo by Andrew Neel on Unsplash© 2021-2023 by delighting.io